Just some random friendly odds and ends...
Are you following me on
bloglovin'
yet?
Betsy
was my 72nd GFC follower. 72 happens to be my favorite random number, so I hooked her up with a free ad and a skincare trial from Arbonne.
I plan to do the same for whoever is lucky #72 on bloglovin'!
Just click the lovely button on my sidebar!
Speaking of following blogs, do y'all read
Faith, Love, and Hope
? The lovely miss Janna was kind enough to interview me, and said interview is live on her blog right now. Check it out
here
!
Fitness/wellness/weight loss bloggers
...my lovely friend Bethany is on her own healthy living journey and just started her own
blog
this weekend. Please stop by and offer her some encouragement!
(updated)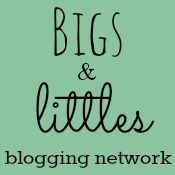 Another blog to check out: I've been doing bigs and littles (see button on my sidebar). I fully expected to be a little, but it looks like I got a little of my own! Check her out and give her some love
here
!
Ooooh, my uncle is in a commercial! Check him out in the elevator (in the tannish suit jacket)!
Anyone interested in
ad swaps
for May?
Contact me!