Well hello there, January 14. You aren't an eventful day for me, really, but I'm still recovering from the business of Christmas/New Year and you are marking the one month countdown to yet another holiday.
Y'all know what I'm talking about - don't pretend you didn't roll your eyes at the day-after-Christmas sales when stores already had their candy hearts out. Yep. One month til V-Day!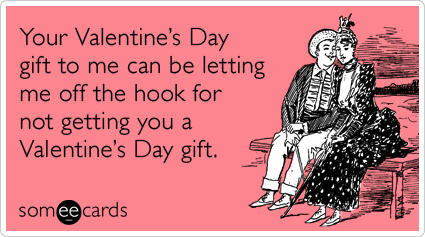 Men, don't let this be you! via
I mentioned last year that Sean & I
don't celebrate
as our dating anniversary also falls in February...but many couples do, whether they like it or not.
So, men, you can panic the day before and run to Wal Mart for the same pre-packaged chocolate and flowers that every other guy is getting his girl (or worse, run out and do this on your lunch break ON the day!) OR, you can let me help you!
Yes, I
can
help you and I
want
to! If you live in the US, UK, Austrailia, or Canada (or have a mailing address for any of those countries), than I've got your back.
Want flowers and chocolate? Fine. I've got a derivative of that. I've also got packages set up at many price points with many "themes." Your girl like to work out? Sleep in? Glam up? Oh yes...I've got the package that suits her preferences. I can even help you tweak or customize if you really want to mix and match.
We place your order, it ships to you, the closest you come to panic is the day of when you realize you should maybe take the gifts out of their box and wrap them. Much easier. Plus, she'll probably like these products way more: